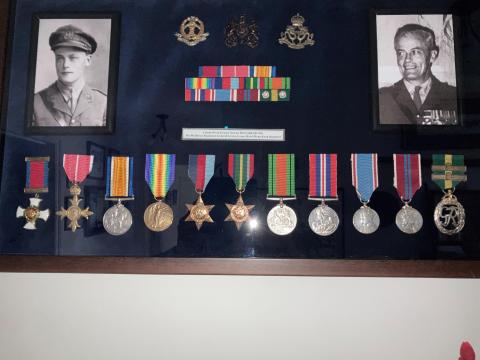 Many readers will be familiar with a book entitled "Hong Kong Volunteers in Battle, December 1941," by Evan Stewart. As the name implies, this is an account of the role played by the HKVDC (Volunteer Defence Corps) during the fighting written by a man who, as a Major, commanded No. 3 (Eurasian) Coy of the Corps during those dark days. The account first saw the light of day whilst Evan Stewart was a PoW in Argyle St. Camp, but it was not published (initially anonymously) until 1953. It has been reprinted many times over the years since then, the most recent edition being in 2020.
So who was Evan Stewart? Well, he was born in 1892 in Bedford, U.K., the seventh child of China missionaries who were home on leave at the time. The following year he went to China with his parents and was present in their mission station in Kucheng, (Fukien Province), when it was attacked by insurgents in 1895. These thugs were anti-foreigner, particularly missionaries.
Evan's parents, housekeeper and two of his siblings were all murdered and the house torched. His older sister, Kathleen, had the presence of mind to rescue her older sister and baby brother (Evan) from the murderers, and eventually they were repatriated to the U.K. Evan and his siblings were brought up by various aunts and uncles there.
Evan was educated in Dublin and also at Wellington College in England, where he excelled both academically and as an athlete. Leaving school aged 18 in 1910, he came to HK where he took up a teaching position at St. Paul's College. His older brother Arthur was Headmaster there at the time. Whilst in HK he joined the Volunteers and was commissioned.
Evan always felt that he should have a degree if he was to advance in his profession, and so in 1913 he returned to Dublin and went up to Trinity College to read History. However, in 1915 he decided to enlist in the Army, even though he was not required to do so as an undergraduate. The War Office felt that with his "China background" Evan would be suited to the Chinese Labour Corps - but he was having none of it! Accordingly he was transferred to a machine gun company in the Middlesex Regiment where he served on the Western Front.
Although wounded, he survived the war and by the end of hostilities was an acting Major. He returned to HK in 1920; resumed his teaching career and rejoined the HKVDC. He completed an external degree in History from London University in 1925 and was granted a degree by Trinity College in 1926. He married a daughter of the Bishop of HK in 1928 and they had one son, Michael, in 1931. (His brother Arthur married another daughter).
Evan rose up the ranks of the HKVDC and by 1941 commanded No. 3 Coy. They were, officially, known as Eurasian Coy but Evan always averred that his men did not care for that appellation. He preferred to refer to them as "Machine Gun" Coy.
Nevertheless, the Coy fought with great distinction and gallantry during the 1941 battle; initially on Stonecutters island then, having been withdrawn to HK island, at the Wong Nai Chong Gap. During fighting at the latter the Coy suffered 100% Officer casualties and over 80% in the other ranks.
Evan was repatriated at the end of the war to the U.K. with severe wounds, but returned to HK in 1947. He re-opened St. Paul's College and played a very active role in HK society. He was a member of various bodies and organisations, both secular and otherwise, including (of course) the HKVDC.
He was awarded the Distinguished Service Order for his gallantry and leadership during the 1941 battle. In 1953 he led the Royal Hong Kong Defence Force contingent at the Coronation of H.M. Queen Elizabeth II in London and was appointed OBE in 1955. He served as the Honorary Colonel of the Hong Kong Regiment from March 1958 until his death later that year.
I am very grateful to Evan's son Michael in the U.K. for forwarding to me the photograph of the 11 awards and medals received by his father during his lifetime. As Michael put it, "Not Bad For A Chap Who Was Not A Regular Soldier!"
Comments
Submitted by on
Submitted by on