Current condition
Demolished / No longer exists
(Day, Month, & Year are approximate.)
(Day, Month, & Year are approximate.)
From 1920 to 1930, many European houses were built in Tsim Sha Tsui. The houses on Hankow Road shown here probably are already second generation. The lots where they were built on are shown below: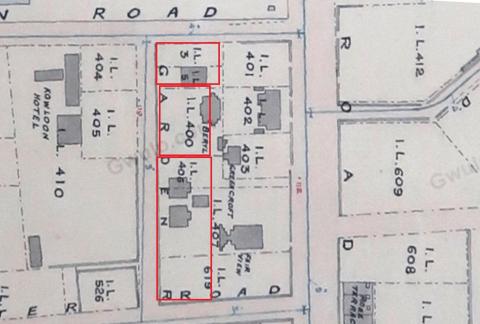 The three blocks/houses on Hankow Road that are marked in red are
bottom: K.I.L. 406, 407, 619 (today No.s 12A (Peking Road), 14 to  36 Hankow Road)
centre: K.I.L. 400 (today 38 to 44 Hankow Road)
top: K.I.L. 3,5 (today 45,45 Haiphong Road).
Update 2020-03-21: the lots K.I.L. 3 and 5 do not belong to these European Houses, they are Haiphong Road Houses.
Additionally, the houses on K.I.L. 400 probably do not belong to the project mentioned in the comment below; they look a bit different and could have been built a few years later.
They can be viewed here on the photo from 1935: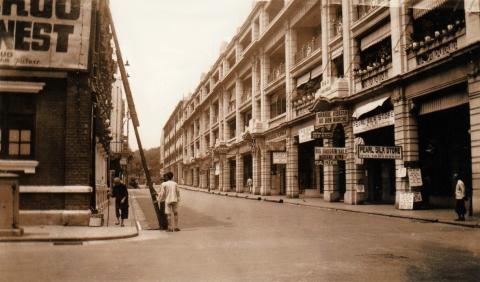 The buildings are European style with shops/restaurants at street level. Exact construction dates are unknown. However, the 1929 Public Works Department Annual Report says: 
Works completed:—10 European houses (10 shops and 30 flats,) on K.I.L. 407, Nathan Road. 
The lot K.I.L. 407 streches out from Nathan to Hankow Roads. So this is probably the time of construction.
The building at the junction with Peking Road is also accessible from Peking Road. In this building Mohan's Tailor was located (just righthand outside the 1935 photo, but shown here in 1952):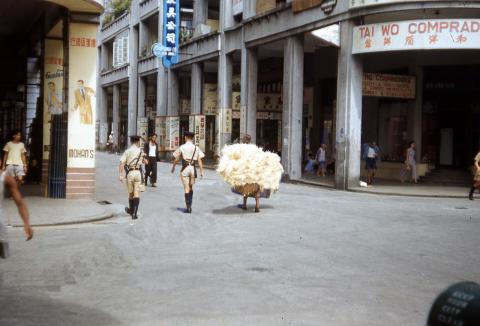 Compare the stripes on the pillars!
These buildings stood there until the early 1960`s. Mohan's Building opened 1963, new houses at 38-44 Hankow Road were Han Hing Mansion 1/1964 and Howard Building 9/1965. Hong Kong Pacific Centre (no 28) opened in 1991. So the demolition date was guesssed to be 1962. 
Previous place(s) at this location
Comments
Submitted by on
Submitted by on
Submitted by on
Submitted by on